Nightingale MPC Screen Shots
Main Screen – supports viewing of data from up to 64 patients
Large Views – layout and colors match PPM2 screen for easy interpretation of values.
Patient Admit / Edit – easy entry of standard patient demographic information.
Auto ID allows quick admit of patients before all other demographics are available.
Setup Parameters – easy access to all parameter alarm settings, including ability to auto-set limits when patient is stable.
Remotely start and stop NBP measurements, and select pulse tone source as OFF, ECG, or SpO2.
Setup Waveforms – easily setup how you want waveforms to appear.
Alarm Log – System automatically stores 30 second ECG strip reports for all HR alarms. Also, any operator-requested reports are saved to reprint later if needed.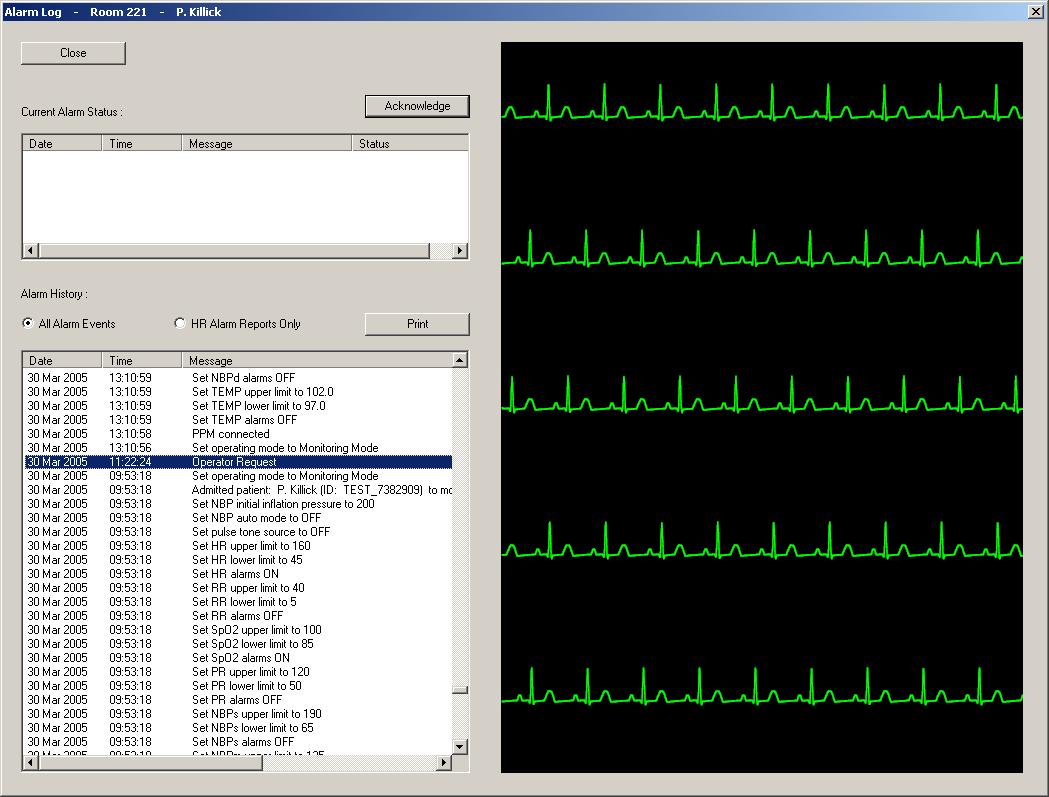 Alarm Log – The alarm log also supports a selection that shows all alarm-related events, such as patient transports, setting changes, and alarms.
Trend Graph – easily scroll through up to last 3 weeks' worth of data, including user-entered notes. Cursor and scaling options allow you to zoom in on areas of interest.
Trend Table – alternatively, view trend data in tabular form for easy transcription. Trend printouts reproduce data exactly as shown on screen.
Setup System – under password control, designated users can configure various aspects of the system's behavior.
Service Setup – provides extensive configurability, allowing the MPC to conform to the specific needs of a given site.
Factory Setup – the MPC software contains an extensive array of self-diagnostic functions used by factory technicians for validation testing of the MPC and the PPM3.